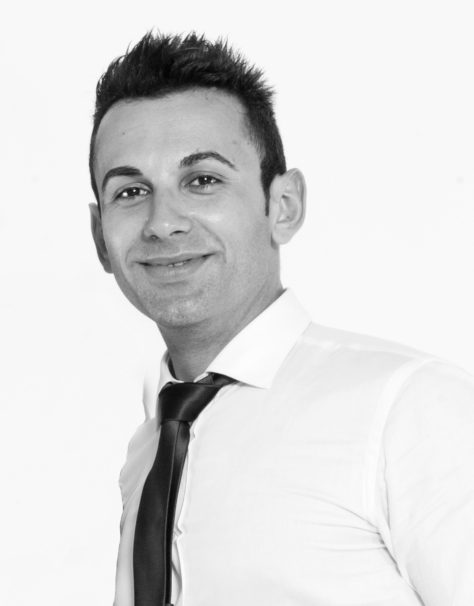 Gabriele Iannello
Ciao, mi chiamo Gabriele Iannello. Sono nato a Busto Arsizio il 13 Agosto 1982.
Attualmente ricopro la posizione di Team Leader nel team CRM nella divisione Onile Flagship Stores di YOOX-NET-A-PORTER.
Da sempre ho una forte attrazione per il mondo tecnologia, del progresso tecnlogico e delle nuove scoperte, sin da quando ero bambino. 
Ho una grande passione per i Lego. Nel "laboratorio" ricavato nel garage dei nonni mi divertivo a costruire e progettare (insieme a mio fratello più grande) nuove costruzioni. Ancora oggi, appena posso mi piace liberare la mia fantasia con quei mattoncini colorati che custodisco ancora gelosamente.
Mi considero una persona solare e estroversa, capace di "fare gruppo" e in grado di condividere le proprie esperienze e conoscenze.
Trascorro gran parte del mio tempo libero con la mia famiglia e gli amici. Amo praticare sport. Corsa, Crossfit ma la vera passione è la Mountain Bike, la quale negli ultimi anni è diventata il mio sport preferito a livello amatoriale.
Adoro viaggiare (sia per hobby che per lavoro), confrontarmi con nuove realtà e culture.
Automunito con patente B, prediligo, se possibile, gli spostamenti con i mezzi pubblici o con mezzi mossi da energie rinnovabili.
Experience
YOOX NET-A-PORTER GROUP
2013 - Actual
Team Leader
In this role I'm responsible for the planning, concept creation, KPI setting, and production guidance of digital campaigns for enterprise communications. 
It requires a combination of strong coordination skills as well as digital expertise and stakeholder management.
I guide multiple content providers and I work with creative teams in order to deliver high quality digital multichannel content that meets business objectives, is consistent with the corporate brand, and creates a positive user experience.
My Accountabilities:
Planning Online Flagship Stores Daily Campaigns.
Partner to develop coordinated, sophisticated, and high-quality content plans in support of digital campaigns.
Identify and articulate key performance indicators that clearly and measurably connect metrics to overall business objectives.
Understanding of how digital campaigns may require unique stakeholder management and planning / education

.

Understand and guide campaign stakeholders on the Online Flagship Stores digital production process.
Managing a diverse workload and working with small creative teams.
Advocate for content/layout innovation and experimentation.
Understanding of changes in technology which enable, or impede/alter, previous approaches to innovation in digital.
Stakeholder Management and Communications.
Work closely with CRM Team to coordinate campaign strategy and draft content.
Implement the logic of triggered rolling campaigns.
Cluster user segmentation.
Campaigns performance analysis (CTR, CTOR, Bounce, Blacklist, Unsubscribe, Heat Map).
Monitoring the domain performance healt

.
MSC Cruises
2009 - 2012
Multimedia Team Leader
I collaborated to build and follow most of important MSC's digital project, while MSC Agency Tool, MSC Multimedia Catalog and the MSC onboard video (tutorials video around MSC cruising services).
I also contributed to the digital develop of website and experience for the MSC Fantasia, MSC Magnifica, MSC Divina and MSC Splendida cruises ship.
i2o web & grafica
2007 -009
Senior Web designer
I built and developed: websites, multimedia Flash animation, Multimedia cd-rom and an online ECM medical certified course for pharmacist and veterinary
Imagine srl
2002 - 2007
Junior Web Designer
For some important pharmaceutical brands  (such as Roche Diagnostics, Bayer, Sara Lee), I built and developed: websites, multimedia Flash animation, Multimedia cd-rom and an online ECM medical certified course for pharmacist and veterinary.
Education Highlights
L&D Manager Course
2016 - Actual
Managerial Training Workshop
Training with focus on the principal and fundamental themes: feedback, relationship, team, motivation.
AGILE training
2016 - 2017
Agile Foundamental Training
What is Agile? How to apply it? Understand the concept, improve and mantain it.
Maka English Training Course
2015 - 2016
Business English Course - B2
Certificated English business Course, Level B2
Adobe Creative Suite Workshop
2014
Adobe Creative Suite Workshop
Advanced Adobe Creative Suite workshop
British Institute English Training Course
2011 - 2012
Business English Course - B1
Certificated English business Course, Level B1
ENAIP
2001 - 2002
Web and Multimedia
Certificated Web and Multimedia specialization 
I.T.I.S.
1996 - 2001
Electrotechincal and Automations Expert
Technical Electrotechincal and Automations 5 years graduation